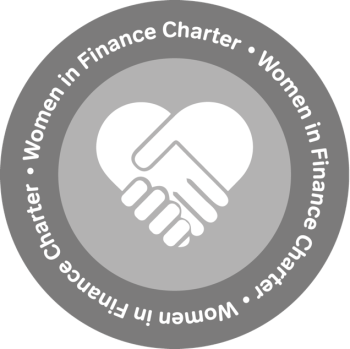 At BLME we are taking steps to promote understanding, awareness, and support in addressing social and racial inequality in the UK. We believe that creating and championing a diverse workforce is the right thing to do for our sector and society, as well as being good for our business, customers, profitability and workplace culture. Embedding diversity and inclusion into our business is a core strategic aim of the Bank.
We are a proud signatory of HM Treasury's Women in Finance Charter and are committed to building a balanced and fair industry.
Championing diversity
We believe that positive, inclusive business cultures should be led from the top and that senior leaders are responsible for setting the tone of a business and are accountable for delivering diversity targets. Our CEO, Andrew Ball, is responsible and accountable for gender diversity and inclusion across our business. Similarly, this responsibility is shared by all members of our Executive Committee. We also encourage all BLME employees to participate in initiatives designed to promote diversity and inclusion, as well as build and maintain an inclusive culture within the Bank.
We are committed to becoming ever more socially responsible and diverse, but recognise it is an ongoing journey to build a balanced organisation and a fairer industry.
The Women in Finance Charter
As part of our approach to diversity and inclusion, BLME is proud to be a signatory organisation of The Women in Finance Charter.
The Women in Finance Charter is a commitment by HM Treasury and signatory firms to work together to create a fairer financial services sector, reflecting the government's aspiration to see gender balance at all levels within financial services.
Participating businesses are committed to supporting the progression of women into senior roles in the financial services sector. The Charter highlights the importance of businesses being able to set their own targets and implement the right strategy for their organisation. It requires businesses to publicly report on progress to deliver against these internal targets to support the transparency and accountability needed to drive change.
As a signatory organisation, BLME commits to:
Having one member of our senior executive team who is responsible and accountable for gender diversity and inclusion
Setting internal targets for gender diversity in senior management
Provide annual progress reports against these targets
Demonstrate to HM Treasury how we have linked executive pay to delivery against our gender diversity targets.
BLME's Women in Finance Pledges
As of 29th September 2021 we had 40% female representation in our senior management population. Looking forward, as a Bank: 
We commit to ensuring 35% of senior management roles are filled by women by end of 2025 (currently c.31%)
We will aim to achieve 50% female representation across all employees by the end of 2025 (currently c.42%)
We commit to report on the percentage of men and women promoted each calendar year to keep us even more focused on analysing the way we manage and nurture our female talent. (We are pleased to report that four out of six promotional opportunities have been awarded thus far to women in 2021)
We will publish our progress against these targets annually
We have disclosed to HM Treasury how we have linked executive pay to delivery against our gender diversity targets and this will be reported to our Board on an annual basis.
We wholeheartedly welcome the opportunity to join with others in our sector to commit to making tangible progress to achieving our diversity goals.
Find out more about the Women in Finance Charter here and about BLME's ESG approach here.